School of Medicine at Narita
Faculty of Medicine
Curriculum
Our curriculum was formulated with focus on fostering doctors able to perform well both in Japan and overseas. We provide education that exceeds global standards, with classes conducted in English, a clinical clerkship program, over four weeks of overseas clinical training, and so on.
The Office of Medical Education
1. English/Medical English Years 1 and 2
These are compulsory subjects. In their first year, primarily non-Japanese native English-speaking teachers help students polish their English communication skills to the point where they are able to converse naturally about a wide range of topics relating to life in society and express their own opinions clearly and in detail. In their second year, students are taught sufficient English communication skills to be able to ask patients about their medical history, conduct physical examinations, file case reports, comprehend and compose medical papers, make presentations at academic conferences, and so on.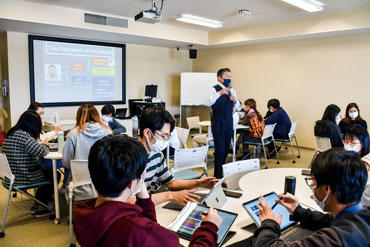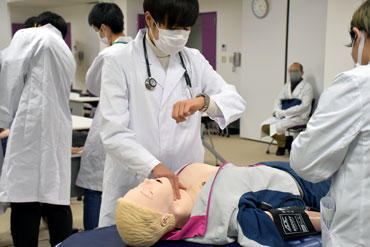 2. Liberal Arts Years 1, 2, and 3
Students receive a general education that instills them with the knowledge required of doctors working internationally. Students receive lectures in a wide range of fields including humanities (covering subjects such as thanatology and the history of medicine), sociology (law, medical care, social security, and healthcare systems), and global issues (international institution studies and international relations).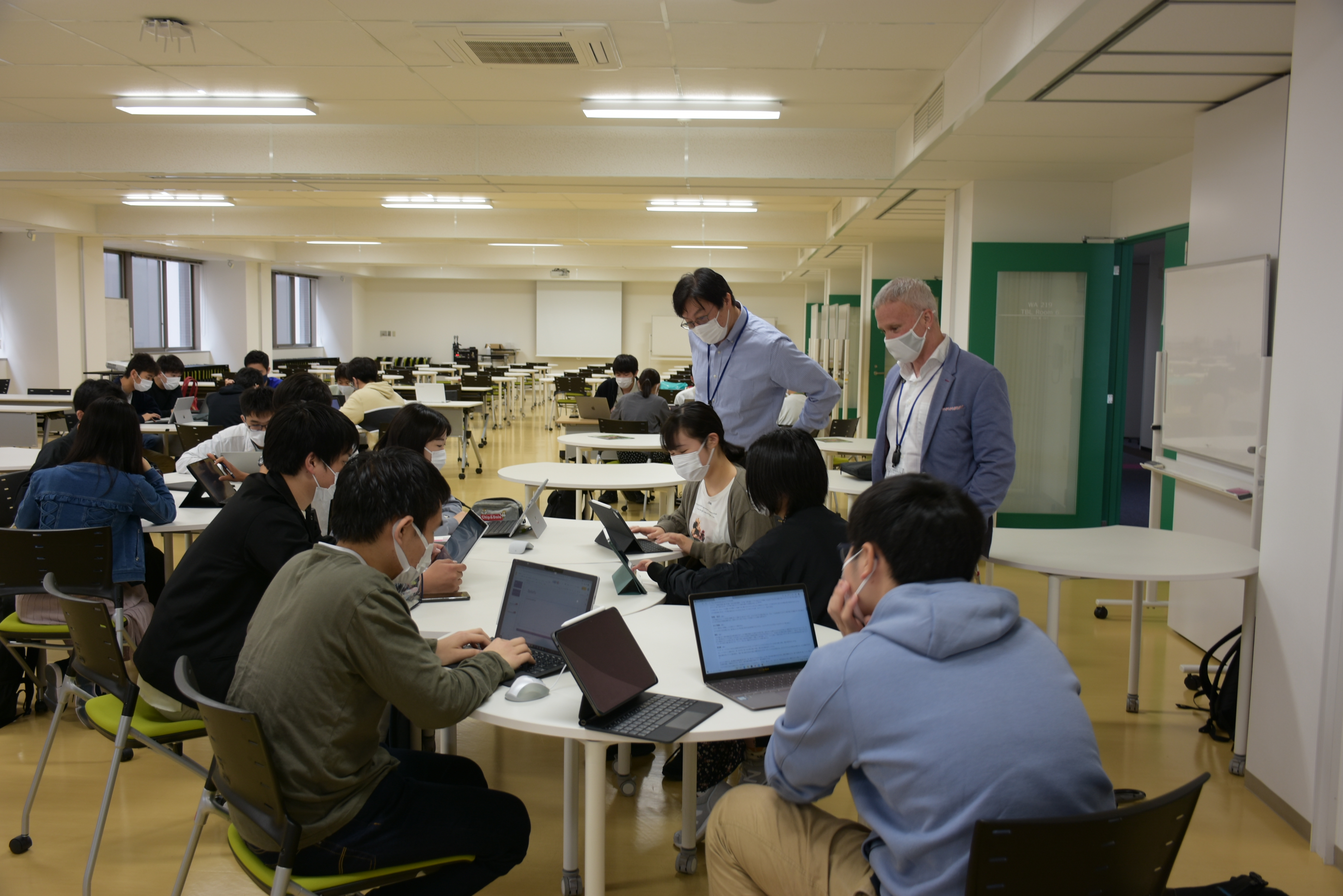 3. Medical Professionalism Years 1, 2, and 3
This is a compulsory subject. To ensure that students develop into outstanding doctors we provide instruction in Japanese examining areas such as the values, ethics, communication skills, and humanism required of doctors. We have students identify issues and consider methods of solving them by examining and discussing specific cases. Year 1 students focus on medical ethics and medical safety, year 2 students on team-based medical care and interprofessional collaboration, and year 3 students on the duty of doctors to disclose information and the importance of prioritizing patients' best interests.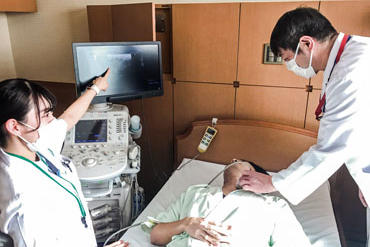 4. Medical Interviews/Physical Examination Year 1 and 2
This is an elective subject. The art of communication is a vital element in gaining trust. Students study communication-related issues such as how to question patients on how their illnesses arose, how to talk with patients during physical examinations, how to provide lifestyle guidance to patients and their families, and how to deliver bad news. This part of the course focuses on teaching practical skills such as practicing medical interviews and physical examinations in Japanese and English on fellow students, mock patients or actual patients who provide their consent.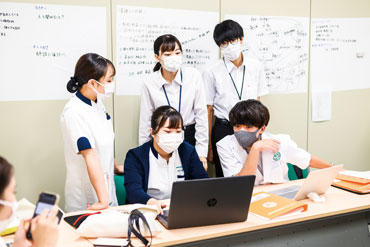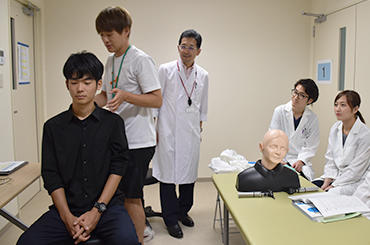 5. Introduction to Medical Care/Dissection Exercises Year 1
This part of the course focuses on instilling an understanding of the structure of the human body that is required for medical practitioners. Students gain a three-dimensional understanding of anatomical structure through the use of 3D-image-based teaching materials and anatomical models and learn the names of each body part in Japanese and English. Students also study the relationships between anatomical structure and major clinical diseases.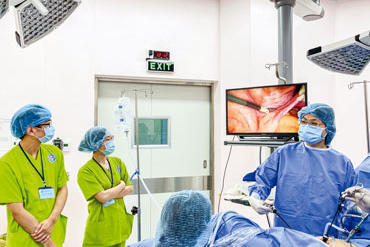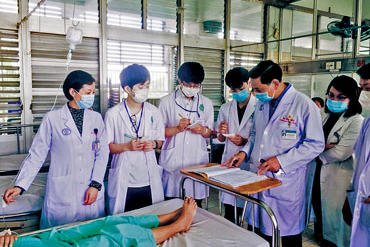 6. International Medicine and Healthcare/Overseas Medical Experience Years 1, 2, and 3
This is a compulsory course component. Students visit a range of countries to gain overseas medical experience, investigate the healthcare situation in each country, and consider how they could be optimized in future. International medicine and healthcare lectures and drills are conducted in English to provide general education on the primary issues relating to international healthcare and the background to these issues, and the cultures and healthcare systems of various countries.
7. Medical Biology, Medical Chemistry, Medical Physics, and Biomedical Engineering Year 1
These are compulsory subjects taught in Japanese. Students study cell biology, the process by which cells develop into organs, and the human biology knowledge required in the field of medicine. They also gain an understanding of familiar substances/materials and phenomena on the atomic, molecular, and ion level and, after mastering the fundamentals of chemistry, they study chemistry as it relates to organisms and biological activities. Students also gain an understanding of the relationships between healthcare and physics and learn the operational principles of medical devices and instruments such as x-ray equipment.
8. Basic Medical Overview Year 1
This is an elective subject. Students study general theoretical medical knowledge. Specifically, classes cover biochemistry, molecular biology, immunology, physiology, pharmacology, histology, histology exercises, pathology, and pathology exercises. These classes are important for integrating specialized basic medical knowledge and clinical medicine-related knowledge on an organ-by-organ basis.
9. Embryo Development and Childbirth Year 1
This is an elective subject. Knowledge about human embryo development is not only necessary for gaining an understanding of the formative processes of the human body but also helps with understanding congenital anomalies and illnesses related to the embryo development process encountered in clinical medicine. Students gain an understanding of aspects of pregnancy and birth such as what constitutes a normal pregnancy and normal birth processes and also study in English basic knowledge about aspects that will be studied at a later stage such as abnormalities that occur during pregnancy, complications during pregnancy caused by a variety of different illnesses, the pathophysiology of abnormal deliveries and the basics of how to manage these.
10. Statistics Year 1
This is a compulsory subject. To be able to provide optimal healthcare to patients, it is important to gather the latest basic medical and clinical medical research findings and gain a proper understanding of them. Statistics lectures allow students to learn about the research design and statistical analysis methods used on a daily basis in medical research and acquire the practical skills to critically scrutinize papers in Japanese and English.
11. Integrated Lectures on Each Organ Group Years 1 and 2
This is an elective subject. Students gain specialized basic medical knowledge about the human body's development, physiology, anatomy, and the pathology of illnesses affecting humans. They also acquire an integrated understanding in English of areas of clinical medicine such as epidemiology, diagnosis, examination and treatment relating to representative illnesses on an organ-by-organ basis (as pertaining to cardiovascular systems, respiratory systems, gastrointestinal systems, endocrinological and metabolic systems, renal and urological systems, gynecological systems, musculoskeletal systems/skin/connective tissues, cranial nerve/psychological systems, and hematological systems).
12. Fetal and Infant Growth, Illness, Contagious Diseases, Tumors, and Clinical Treatment
This is an elective subject taught in English. Students learn about nutrition required for normal growth and development, infant healthcare and the treatment and pathology of infant illnesses. Students also gain an understanding of the pathogenesis, pathophysiology, and treatment of contagious diseases caused by viruses, bacteria, fungus, and parasites, and learn about conditions in Japan and elsewhere. In addition, students gain an understanding of the pathophysiology, diagnosis, examination, and treatment of benign and malignant tumors that occur in various organs and other parts of the body.
13. Human Body Dissection Year 2
This is an elective subject. After taking a detailed look at basic medicine and clinical medicine including integrated lectures on each organ group, students build upon their knowledge of human anatomy acquired in their first year by again engaging in dissection of donated corpses. Students learn the English and Japanese anatomical terminology essential for clinical medicine and gain a deeper understanding of the relationships between clinical medicine and anatomical structure.
14. Emergency and Intensive Care, Anesthesia Year 2
This is an elective subject taught in English. Students learn about basic life support and basic life support instruction methods, and gain an understanding of how to manage the conditions and treatment of emergency patients. Students also gain an understanding of triage procedures during disasters, biological responsiveness in patients suffering from shock or multiple organ dysfunction, and pulmonary physiology and the medicines required for anesthesia. In addition, students also learn about specific methods used in administering general and local anesthesia, the differences in pre- and post-surgery management in each hospital department and specific issues, and the control of pre- and post-surgery pain.
15. Preventative Medicine/Behavioral Science, Gerontology Year 2
This is an elective subject taught in English. Students gain an understanding of preventive medicine theory and techniques, accomplishments in the field and future applications. They also learn about behavioral science theory and models for encouraging people to autonomously change their behavior based on societal, cultural, and psychological factors relating to health maintenance, enhancement, and recovery. In addition, students gain an understanding of conditions peculiar to elderly people, as well as representative issues affecting elderly such as osteoporosis, geriatric syndromes, and reduced mobility.
16. Public Health I, II, III, IV, and V Year 3
Public Health lectures and exercises are composed of the following components:
Medical management: Students learn about healthcare systems, medical economics, establishing the quality and safety of medical care, and so on.
Hygiene and public health: Students learn about disease prevention and population health.
Forensic medicine: Students learn about inquests into causes of death, verification of identity, etc.
Clinical epidemiology/EBM: Students learn about how to utilize statistical and epidemiological methods in medical treatment of patients.
17. General Clinical Medicine Year 3
Students review in Japanese the disorders that they have already learned about in English from the specialized perspectives of internal medicine, surgery, obstetrics/gynecology, pediatrics, psychology, orthopedics, anesthesiology, emergency medicine, and diagnostic radiology. In addition students engage in comprehensive study of clinical testing/biomedical engineering, physiotherapy/rehabilitative medicine, comprehensive diagnostics, psychosomatic internal medicine, and community-based medicine (including family medicine).
18. Introduction to Clinical Diagnosis, Symptoms, and Clinical Reasoning Year 3
Students work on enhancing the medical interview and physical examination skills that they practiced in their first and second years with the aim of becoming able to diagnose cases. Students acquire electrocardiogram and ultrasound examination skills and how to interpret findings, how to interpret the results of blood tests, x-rays, CT and MRI scans and other kinds of examination and record these results in medical records. Students also acquire clinical reasoning skills through group debate regarding crucial symptoms such as impaired consciousness, headaches, dizziness, chest pain, and abdominal pain.
19. CBT (Computer-Based Testing) and OSCE (Objective Structured Clinical Examination) Year 3
These are examinations that all students in medical faculties and departments in Japan sit. It is to a full medical license test what a provisional driving license test is to a full driving license test. The CBT is a written examination conducted using computers at university campuses, and test students in Japanese on their clinical reasoning skills and the pathophysiological skills and knowledge of basic medicine that this requires. The OSCE is a practical skills examination conducted in a laboratory mocked up like a medical facility. Students are evaluated on their skills and attitude when conducting medical interviews, physical examinations, basic clinical procedures, emergency resuscitation, and so on.
20. Clinical Training I, II, and II (Clinical Clerkship) Year 4 and 5
In Clinical Training I and II students engage in clinical clerkship covering the following basic medical care subjects: Internal medicine, surgery, pediatrics, general medical care, emergency care, obstetrics, and psychology. In Clinical Training III students engage in clinical clerkship covering other applied medical care subjects. Each student acts as a member of a medical team under the oversight of a supervisory doctor, engaging in medical interviews, physical examinations, testing, and treatment of patients and participating in conferences. This enables them to learn about the professionalism required of doctors, and acquire the practical skills to solve clinical issues.
21. Interprofessional Education (exercises and training) Year 4
In order to master interprofessional coordination, which is essential for the provision of holistic support to patients, student gain specialized knowledge relating to professions in health, medicine, and welfare and an understanding of the relationships and coordination that occurs between the professions. Students are split into groups with students from other faculties and carry out exercises aimed at deepening their understanding of coordination between healthcare and welfare professionals and team-based medical care, and, thanks to the cooperation the patients, customers, and trainers at the training facilities, students are also able to engage in practical training.
22. USMLE (United States Medical Licensing Examination) Year 5
Doctors who graduated from medical faculties located outside the United States and who wish to participate in clinical training in the United States are required to pass Step 1 (a computer-based written examination) and Step 2 (a written examination and practical skills test) of USMLE. IUHW recommends all students to sit Step 1 of USMLE by March of their fifth year, and we provide extracurricular lectures to help students prepare for this.
23. Clinical Training IV (elective clinical training/overseas clinical training) Year 6
Students stay for four weeks in Western countries or Asian countries such as Myanmar, Vietnam, Mongolia, Laos, South Korea, Malaysia, and India, during which time they receive clinical training and make use of the English communication skills they have acquired to learn about medical conditions in their host countries. For the rest of the period they choose one medical department from amongst the entire range and begin studying with an eye to settling on a medical department to work in in future on their way to becoming a medical specialist.
24. International Clinical Skills Evaluation Test (in English) and OSCE after Completion of Clinical Training
After Clinical Training IV, students sit an English-language international clinical skills evaluation test that has the same level of difficulty as certification examinations in the United States and Canada. Following the clinical training students also sit an OSCE, which is conducted over the course of a week, and the results are taken into account in their graduation assessments
25. General Overview Lectures Year 6
These lectures provide students with a general summary of what they have learned over their six years of study, with revision focused on human anatomy and functions, causes of diseases, pathology, and symptoms. The lectures also draw together and consolidate important knowledge about each clinical department including internal medicine and surgery, and elevate this information into a general set of knowledge that can be drawn on when solving problems. Students also review fundamental matters such as medical professionalism and acquire the latest information on public health-related subjects.
26. Graduation Examination and National Medical Practitioners Qualifying Examination Prior to Graduation
Held over several days every February by Japan's Ministry of Health, Labour and Welfare, the National Medical Practitioners Qualifying Examination is a written multiple-choice examination with several hundred questions. Classes to prepare for these are conducted in English until the end of year 2 then in Japanese from year 3, and cover CBT, clinical training, and the National Medical Practitioners Qualifying Examination. Year 6 students can utilize a dedicated 24-hour study room and can review the knowledge they have acquired in the abovementioned General Overview Lectures, and the graduation examination is used to confirm this.