School of Medicine at Narita
Faculty of Medicine
Features of School of Medicine
Three Policies
Messages
Features of School of Medicine
Creating a truly global model for medical education and fostering doctors armed with solid practical skills.
We aim to create a truly global model for medical education and foster doctors with advanced and comprehensive medical care capabilities, who are adept at working in clinical conditions, armed with solid practical skills, and able to play active roles both in Japan and overseas
Medical education of an unprecedentedly high standard.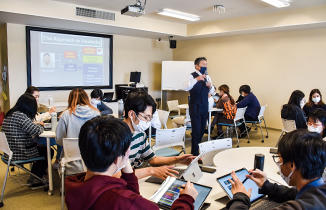 Classes in the majority of subjects are conducted in English.
A global learning environment in which one in seven students are international students
Student driven hands-on active learning.
Clinical clerkship provided for 90 weeks, exceeding global standards.
All students in their sixth year participate in overseas clinical training for four weeks or more.
Teaching staff includes many non-Japanese instructors and Japanese instructors with extensive overseas clinical and educational experience.
While the established standards for teaching staff numbers require us to have 160 teaching staff, we have about 345 full-time teaching staff members in the School of Medicine opens. Of these full-time teaching staff members, we will employ approximately 30 non-Japanese instructors in order to create an environment befitting an international center of medicine.
Thorough preparation for national examinations provided by experts in medical education.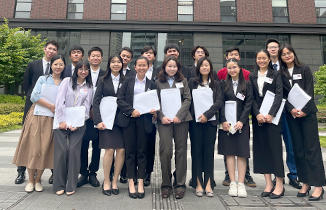 We call upon a team of professors who are leaders of medical education in Japan.
The curriculum is formulated in an integrated manner with, for example, integrated lectures covering each organ group.
The "Office of Medical Education", which is responsible for curriculum formulation and evaluation, is staffed by 40 full-time teaching staff.
Lectures giving a general overview in preparation for the National Medical Practitioners Qualifying Examinations are provided to students in their sixth year, and a dedicated study room is also available for use 24 hours a day.
Providing comprehensive practical education/clinical training environments that take advantage of our extensive range of facilities and equipment.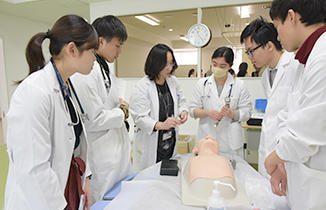 To foster an advanced general medical care capabilities in our students, we have established a Medical Education Simulation Center, which, at 5,300m2, is one of the largest in the world.
In addition to our six affiliated hospitals, we also make use of other hospitals and facilities associated with the IUHW group that we position as clinical medical training research centers for the provision of clinical training to students.
The IUHW Narita Hospital has opened in Narita City in 2020.
We have a 200-bed nursing and healthcare facility for the elderly as well as a home-care center, and are able to provide comprehensive clinical training that corresponds to the needs of community-based integrated care systems.
We have established an "International Remote Image-Based Diagnosis Center" and an "International Infectious Disease Research Center" to enhance our crisis management capabilities, including the ability to observe contagious diseases as they emerge overseas.
We open door wide for students spreading their wings both in Japan and around the world.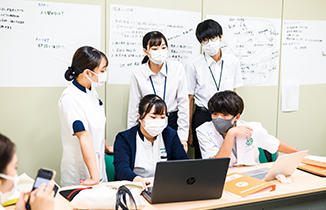 Tuition fees are set at 18.5 million JPY for six years of study, the lowest tuition fees of any private university medical school in Japan.
Of the 140 slots in each grade, 20 are international students.
We do not ask for any special donations and of course, we do not require donations.
School of Medicine medical scholarship program.
We conduct the Special Entrance Examination for International Students, Returnee Students and Students of International School twice in a year.
Interprofessional education that only a health and welfare university can provide.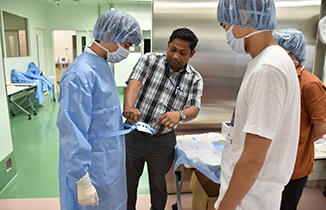 Students can gain specialized knowledge relating to professions in health, medicine, and welfare.
Students can learn about the interrelationships and links between occupations in health, medicine, and welfare.
Students engage in exercises to deepen their understanding of team-based medical care and coordination between the fields of health and welfare.
Students train with training facility patients and customers, instructors, and others.
The Office of Medical Education
The Office of Medical Education with 40 full-time teaching staff has been established within the IUHW School of Medicine. To provide medical education that exceeds global standards, it is necessary to assemble a large group of full-time teaching staff who are passionate about medical education and bestow on them the authority to formulate curriculums, evaluation frameworks, and so on. Professor Haruko Akatsu has been assigned to the role of Dean of this new center. Professor Akatsu, who is a former associate professor at Stanford University, has been involved for many long years in clinical facilities and medical education in North America.
"Let's acquire the skills necessary for doctors of the 21st century"
The Office of Medical Education provides extensive support to ensure that students acquire the skills necessary to become doctors of the 21st century.
Over the six years of their study at IUHW, students will gain the communication skills that are so crucial to doctors involved in international medical care. They will also acquire, ponder on, select, and integrate cutting-edge knowhow and information. In addition they will be instilled with the spirit of service required of medical professionals that always put the needs of patients first. Unlike passive 20th century education in which students simply memorized textbooks and attended lectures in which lecturers merely reeled off information in a unilateral matter, students at IUHW are able to engage in participatory and student-driven active learning.
We have also formulated a revolutionary curriculum in which medical education is also conducted in English. Please think of it as overseas study that can be carried out while still in Japan, and prepare yourself to plunge headfirst into this new culture and the new challenges it will present you with. The Office of Medical Education will provide support to underpin this innovative education that differs from that of any other medical faculty in Japan.
With the opening of our new School of Medicine, we have a never-to-be-repeated opportunity to create an entirely new education style from scratch, unlike typical reforms to medical education that only involve incremental elimination and replacement of certain elements. It is our hope that by creating a new style of medical education for future generations based on our ambitious vision and the medical education theories, experiences, and lessons that have been learned and accumulated over many long years both in Japan and overseas, we will be able to further enhance the quality of care provided to patients.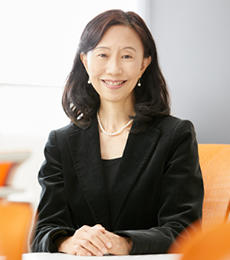 Professor
Haruko Akatsu


Dean of the Office of Medical Education
Travelled to the U.S.A. on a Fulbright Scholarship after completing a graduate course at Sophia University. Studied medicine at the Warren Alpert Medical School of Brown University and there received a U.S. physician's license after engaging in graduate studies at Harvard University. Completed an internal medicine residency and endocrinology fellowship at Stanford University. Engaged in medical treatment of patients and instruction at the University of Pittsburgh and Stanford University. Served as associate professor at the Stanford University School of Medicine, director of an endocrinology outpatient clinic, and medical director of a thyroid cancer clinic. Received "America's Top Doctors" and "Best Doctors" awards. Assumed the role of Dean of the IUHW School of Medicine's Office of Medical Education in April 2017.
Three policies of School of Medicine
The IUHW School of Medicine and Faculty of Medicine
Admission Policies
Students must adequately understand the fundamental and educational principles of IUHW and the School of Medicine and be strongly committed to contribute, as a specialized professional, to create a more harmonious society.
Students must have achieved outstanding grades and English capabilities, have a global, forward-thinking outlook, and be strongly committed to contribute to the development of the fields of health, medicine, and welfare in both their home countries and the greater global community, in response to medical needs in Japan and overseas.
Students must be driven to learn in a self-motivated and proactive manner and be prepared to continue to make efforts to stay current on the specialization, globalization, and technological advances in the fields of health, medicine, and welfare.
Students must be able to proactively work on polishing their own capabilities, to become more open-minded and have well-rounded character.
Students must be able to engage in communication with all kinds of people.
Curriculum Policies
Lectures on medical professionalism are to be carried out in tandem with the provision of specialized education. Students are to be taught the communication skills required of doctors. For example, the stance of treating patients with compassion and the like. Students must be instilled with the high ethical standards expected of those working in the fields of medicine and healthcare.
Classes in the majority of subjects are to be conducted in English. International medical and health studies and overseas clinical training are required course components. By studying together with international students, Japanese students gain a global outlook and the ability to provide medical care and discuss issues in English. The curriculum is formulated to foster doctors to be able to perform on the world stage.
Through a comprehensive range of liberal arts lectures, students are instilled with the open-minded perspective required in the fields of medicine and healthcare.
Basic and clinical medicine are taught in an integrated manner in small groups of students to enhance their abilities to solve issues and to subject information to critical scrutiny.
Through comprehensive simulation-based education and clinical clerkship, students are armed with advanced general clinical capabilities with a balanced focus on knowledge, skills, and attitude.
By the time they join the workforce, students will have been provided with an understanding of the various roles of each medical profession. This enables students to fully demonstrate their own specialized capabilities through inter professional education.
Diploma Policies
Students must be able to provide patient-centered medical care with medical professionalism with the highest of ethical standards.
Students must have a sufficient knowledge-base and advanced communication skills to stay current on the globalization of the field of medicine and to be able to perform in overseas medical facilities.
Students must be able to provide high-caliber medical care based on scientific thinking. Students must have also developed a spirit of tolerance and mastered the sciences and arts required of practitioners in the fields of medicine and healthcare.
Students must acquire the ability to cooperate and collaborate with people in a wide range of professions working at medical facilities, knowledge concerning accountability structures and the roles of each profession, as well as the ability to play core roles in medical teams in the future.
Messages
Message from the Chairman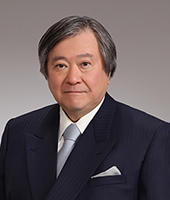 M.D., Ph.D.
IUHW Chairman
Kuninori Takagi
The International University of Health and Welfare (IUHW) was founded in 1995 in Otawara, Tochigi, with the aim of nurturing and empowering health and welfare professionals. It consists of 10 faculties and 25 departments on five campuses across Japan, and approximately 10,000 students are currently enrolled, including graduate school students. In the 27 years since its opening, the university has produced about 30,000 well-qualified graduates and is highly regarded both in Japan and abroad.
 This year marks the sixth year since the School of Medicine was established at Narita Campus, and our first cohort are now in their sixth year. Since its establishment, the School of Medicine has been promoting innovative medical education. With the majority of classes in the first and second years taught in English, the emphasis is placed on internationalization and training doctors with excellent general medical skills through small-group education, integrated curriculum, and active learning. Exceeding even the highest of world standards, students undertake a 90-week-long extensive clinical training (including overseas) at a number of medical and welfare-related facilities associated with IHW Group. These include the six affiliated hospitals, among them the Sanno Hospital, famous for its obstetrics ward and other facilities that have been established as Clinical Medical Research Centers. In addition, the principle of Cooperative Education for Allied Professions makes the most of the university's advantageous position as a medical and welfare university that trains a large number of professions, and cross-disciplinary teams are formed to experience team-based medicine and team-based medical care.
From the fourth year onwards, clinical practice is carried out at IUHW Narita Hospital, IUHW Hospital and other group hospitals; in the sixth year, overseas clinical practice at hospitals and medical institutions affiliated with medical universities around the world is compulsory. In addition to a large number of faculty members with extensive overseas educational and clinical experience, the Office of Medical Education who implements medical education that exceeds world standards, has a large number of full-time faculty members, including foreign faculty members, and consolidates authority over curriculum organization, evaluation and other related matters. It also focuses on integrated education with the graduate school.
The Narita Campus is an international environment, where talented students from Japan and abroad gather to study. One out of every seven students is an international student, including top students recommended by their governments and universities in Vietnam, Myanmar, Mongolia, Cambodia, Indonesia, Laos and other countries. In particular, the scholarship students, for whom the university covers all tuition fees, course materials, and living expenses are expected to become future leaders in the field of medicine and public welfare in their home countries. By including such international students and promoting medical cooperation, the university is committed to improving the standard of healthcare in Asia as a whole.
IUHW Narita Hospital, located near Narita Campus, has 5 renowned centers. First, the International Remote Diagnostic Center is affiliated with overseas universities and medical institutions. Second, the Center for Preventative Medicine is one of the largest physical examination centers in Japan. The hospital also hosts the Radiotherapy Cancer Center that provides tomotherapy as well as the Center for Genomic Diagnosis. Last but not least, we have the International Center for Clinical Infectious Disease. IUHW Narita Hospital aims to be Asia's leading international hub hospital, providing world-class advanced medical care to patients both domestic and abroad. In order to enhance our research contributions in the research sector, we have also established distinctive centers such as the Institute for Genomic Medicine, the International Research Center for Infectious Diseases, and the Innovation and Research Support Center.
The University Group has made a concerted effort to combat new coronavirus infections. To start with, our infectious disease specialists as well as public health physicians from the School of Medicine were sent in to help onboard the cruise ship Diamond Princess. By March 2022, more than 200,000 vaccines have been administered to more than 100,000 people, and up to 252 beds for COVID-19 patients have been utilized in the Group's hospitals. We are also taking all possible measures to prevent the spread of infectious diseases, such as conducting PCR tests for incoming freshmen before this year's entrance ceremony, and inviting the students once negative results have been confirmed. The university also conducts PCR testing for all students prior to clinical practice at no cost to the students.
We will continue to improve coronavirus control measures and contribute in the fields of education, medicine, and welfare in cooperation with the local community to build an international medical center of the highest standard in the world. This way, we hope that the people of Narita City and Chiba Prefecture will be able to boast that they have the International University of Health and Welfare in their neighborhood. It is our aim that through implementing innovative medical education, our School of Medicine will produce many doctors who will become active on the world stage.
Message from the President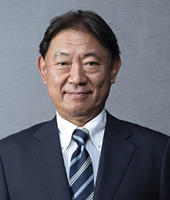 M.D., Ph.D.
IUHW President
Yasuhiro Suzuki
Established in 2017, the International University of Health and Welfare's School of Medicine has been delivering cutting edge medical education to train physicians with comprehensive, high-level medical skills and international mindset who can contribute to multidisciplinary team-based medicine and team-based care. In order to provide medical education that surpasses global standards, the School of Medicine established the Office of Medical Education with approximately 30 full-time faculty members, an unprecedented number among medical schools in Japan. The Office of Medical Education provides appropriate and effective guidance while closely monitoring each student's level of understanding of classes and achievement in practical training. In addition, in order to cultivate real English language skills essential in a global society, many classes in the first and second years are taught in English. Group studies in which Japanese and international students work together create opportunities to accept people with differing value systems and cultivate an international outlook.
While the majority of professors in the School of Medicine come from other universities, many of them consider our students to be serious and very competent in clinical settings. In addition, doctors at our clinical practice sites have highly praised our medical students for their good communication skills and their wealth of medical knowledge. As all students complete 90 weeks of clinical training that includes actual participation in medical treatment - a standard that is globally unmatched - they can be expected to exhibit excellent clinical skills.
In 2022, the first cohort (2017) will begin their sixth year of study and will be expected to complete the overseas clinical training component of the curriculum. Hopefully this experience will help students become medical professionals that can contribute to medical care even in environments where, unlike Japan, medical equipment and facilities are not always perfect.
I joined this university in 2021 and assumed the position of President this year, impressed by the excellence of the University's medical education as well as the fairness of the entrance examinations, which create an unparalleled richness in the academic environment and foster truly internationally-minded health and welfare professionals. The University's learning environment, which allows students to experience clinical practice at the six affiliated hospitals and the Clinical Medical Research Center, is an extremely privileged environment that I did not have the opportunity to experience when I was a medical student myself. In addition, students can form mixed-department teams and experience team-based medicine and team-based care under the guidance of doctors and specialists active in their fields of expertise. This is possible due to our position as a medicine and welfare university that trains a wide variety of medical specialists.
I became interested in public health during my student days, after I participated in providing medical care for indigenous people in South America. This was one of the many experiences in medical school that had a strong impact on my later life, including my work for the World Health Organization (WHO). Our university offers a learning environment that opens doors to many different career paths, including clinical practice and basic medical research. I hope that all of you who study at our University will deepen your knowledge in this enriching environment and make the most of the life ahead of you.
Next spring, in March 2023, the first class of medical students will finally graduate. I sincerely hope that all the students who leave this university will be active as leaders in medicine and welfare, not only in their local community but also on the international stage.