Messages
Kuninori TAKAGI, Chairman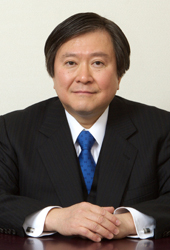 Kuninori TAKAGI
Aspiring to foster a wide array of health and welfare specialists and to raise their status, International University of Health and Welfare was founded in 1995 as Japan's first comprehensive university of health and welfare. As health and welfare advances and technicalizes by the day, we educate specialists with high skills and knowledge, prominent decision making, liberal arts and the ability to become leaders in their specialties. We currently have four campuses, six schools and sixteen departments located in Ohtawara City, Tochigi prefecture, Odawara City, Kanagawa prefecture, Fukuoka and Okawa Cities, Fukuoka prefecture and around 7,200 students including graduate school students study with us. A society where everyone, able-bodied or not, can join hands to "build a society for mutual respect and support" is our founding principle. Our goal is to foster medical professionals who can execute "Team care medicine" under three basic principles, "university focused on well-balanced individuals with a solid sense of humanity", "university strongly connected to and fully open to the community" and "university directed towards the attainment of global standard" along with seven educational principles.
Not only do we provide our students with plenty of training facilities, but also have authorities from various fields as our faculty. We have many clinical research centers, giving students many opportunities to practice what they have studied. Within the Ohtawara Campus, there are Support Facility for Persons with Disabilities, rehabilitation facility, the only emotionally disturbed children short term treatment facility in Tochigi prefecture, a university clinic with one of Asia's best Speech Hearing Center and five other facilities supplying many opportunities for students to interact with elderly and people with disabilities, a feature of our university. A new campus in Narita City, Chiba, consisting of two schools, five departments will be established in April 2016. The new campus will contribute to the serious lack in medical professionals in Metropolitan Tokyo, as well as foster international medical professionals educated by an international faculty.
IUHW proudly announces a 100% employment rate every years. This is all due to the top-class national examination pass rates and the highly-evaluated efforts of the graduates. 18,000 students have graduated and are leading professionals in their fields. My wish is to have more and more students from IUHW succeed in the field of health and welfare.
Kuni OHTOMO, President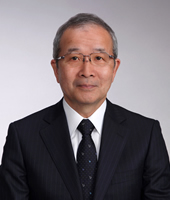 Kuni OHTOMO
Chiba Narita City witnesses the opening of the International University of Health and Welfare (IUHW) Narita Campus in April 2016 with 2 Schools / 5 Departments. At Narita Campus, we educate our students to become capable of working as "Team care medicine" wherever they are in this world, as well as foster global-conscious specialists who can contribute to international medical cooperation.
"Team care medicine" is indispensable in the medical field today, where medical and welfare professionals work together and provide the best care for patients. We take full advantage of our university's comprehensive structure by focusing on "Inter-Professional Education," which forms the foundation for "Team care medicine." We can provide such curriculum because students can receive clinical training at five university hospitals as well as the affiliated facilities.
In April 2017, IUHW will establish its School of Medicine at Narita Campus, where an innovative medical education exceeding global standards will be implemented with an advanced curriculum. We will provide medical education with a rich sense of internationality and aim to nurture professionals with comprehensive medical care skills. Furthermore, we are planning to establish a university hospital which has 600 beds, as well as a training center with cutting-edge medical equipments near Narita International Airport.
The founding principle of IUHW is "building a society with mutual respect." Under this principle, we provide the highest medical technology and science, and an educational environment where students can nurture spontaneous hospitality. I hope our future students take advantage of the faculty and educational environment at Narita Campus, and engage not only in studying, but also in sports and volunteer work, and become leaders in their field of medicine and welfare not only in Japan, but all over the world.
Yoshio YAZAKI, Chancellor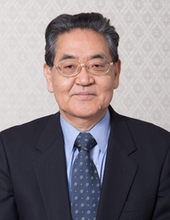 Yoshio YAZAKIO
In Narita city, where the largest international airport of our country lies, we are planning to establish a new campus with 2 schools, 5 departments. We started out in 1995 as the first comprehensive university focusing on health and welfare in Japan. Predominant features of IUHW are "faculty consisting of frontiers in their professions", "top-quality university hospitals and affiliated institutes", "significant national examination pass rates", "astonishing number of job offers and employment rate" and "vigorous international exchange activities". Approximately 7,200 students currently study at 4 campuses, 6 schools and 16 departments located in Ohtawara, Odawara, Fukuoka and Okawa. We are proud to have an approximate of 18,000 graduates who are working in the very front lines of health and welfare.
With these achievements, we will now educate and train new health and welfare specialists appropriate for the international city, Narita, with innovative concepts and new curriculum. Efforts are put into providing "education based on an advanced and global-minded curriculum by highly-qualified faculty" and "training programs in 9 countries, 20 facilities". To put our founding educational principle, "Team care medicine" into action, we are planning to place more effort into inter-professional education. In the super-aging society today, it is essential that medical professionals work closely as a team in pursuit of the best treatment and medical care. By opening 5 departments simultaneously in Narita, the curriculum will focus on inter-professional education from the start. Students will be trained to be not only highly professional, but also have a broad perspective and be effective in communication.
In a super-aging society today, there is a high demand for health and welfare specialists. I am looking forward to providing highly advanced education to students aspiring to become health and welfare professionals at our university IUHW, where many distinguished seniors have responded to the social needs of today.
Motoko SUGIHARA, Dean, School of Health Sciences, Narita Campus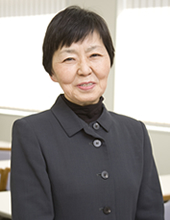 Motoko SUGIHARA
At IUHW, we offer inter-professional education, which none but IUHW can offer to students striving to become medical professionals, and which emphasizes ties between schools/departments and education/research. Just by observing the outcome of our education (approx.100% pass rate in National Licensure Exams, 100% employment rate), it is clear that our inter-professional education cultivates inter-discipline and humanity. By interacting with students from different schools/departments, they will develop the ability to comprehend their own profession relatively through these activities.
Internationality will surely be cultivated through international courses, training inside and outside Japan, classes given by our internationally active faculty members, and interaction with international students. Through learning about the history, culture, education, healthcare and welfare systems in other countries, students will be able to identify problems in other countries and also measures to solve them.
I look forward to seeing our highly professionalized graduates play important roles in fields such as health, medicine, welfare, education and other occupations through our education providing inter-professionalism, humanity and internationality.
Messages from globally active
faculty members
Kei MIYAMOTO, School of Nursing (Narita Campus)
Department of Nursing (To be assigned)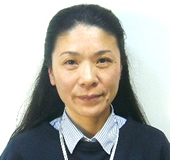 Kei MIYAMOTO
Highly experienced in nursing education in Japan/overseas. Worked at traveling medical clinics at time of mass repatriating refugees.
Nurse/Midwife. Master of Developmental Studies.
Nurse/Midwife. Master of Developmental Studies. After graduating from College of Health Professions, Toho University and serving seven years in pediatric wards of university hospitals, Ms. Miyamoto became engaged in international cooperation activities in countries such as Cambodia, Dominican Republic, Nepal and Jordan. She also served in clinics at Rwandan refugee camps, at traveling clinics at time of mass repatriating refugees, and is making great efforts in educating nurses both domestically and internationally.
I was dispatched to a refugee camp in Congo (former Zaire) in the late 1990s as a nurse. The different medical environment and nurse's roles and duties in Congo in addition to the unstable security, severe weather conditions, living environments and linguistic problems confused me. However, after working with nurses who are also refugees themselves, I understood the diversity of medical services and the comprehensiveness of the work covered by nurses. This experience became one of my indispensable treasures in life. Since then, I have been involved in international cooperation in several countries abroad. To name one, I participated in organizing a system of national qualification for nurses under very chaotic political conditions in Nepal.
Currently, the world is getting smaller and smaller. We can say that problems in the field of medicine and health are becoming more and more diversified and globalized. Nurses with broad and global perspectives, making wise decisions and taking independent actions with flexibility are crucial both domestically and internationally. Through my experience, I am hoping to train professionals who can be active internationally.
Yoshiko KUDO, School of Health Sciences (Narita Campus)
Department of Medical Science Technology (To be assigned)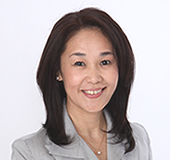 Yoshiko KUDO
Participated in international cooperation in developing countries
Medical technologist.Bachelors' degree at Faculty of Science, Tokyo University of ScienceDoctor's degree at Institute of Public Health
She has actively participated in JICA projects, such as mother-infant health and management of tuberculosis medical examination in Cambodia, Republic Nepal, Afghanistan, and Philippines etc. Currently, she undertakes epidemiological studies of Leptospirosis and the external accuracy management activity of clinical examination in Cambodia.
"Medical Science Technology", which observes change in physical condition as data, is indispensable to supporting health. Japanese medical technologists have high standards of knowledge and skills and play important roles in Team care medicine. I, as an MT, have been involved in international medical cooperation activities in many countries such as Cambodia and Philippines. The goals of these activities were to build medical system through clinical technology with the locals there. My intention was to "let the people think on their own" during those activities. It would not mean anything if money and material were just given to suffering people, just to have them all used up. However, if they "acquire knowledge themselves" instead of just receive inoformation, the know-hows will remain in their countries and the people will be able to control and develop medical systems on their own.
Although the studies to become an MT is hard, we faculty members will do our best to train MTs who will play an active role around the world. Let's work together as MTs, supporting people across the globe.