Characteristics of IUHW
Inter-professional Education
We offer "Team care medicine" where different health and welfare specialists provide medical treatment and care to each individual patient and customer.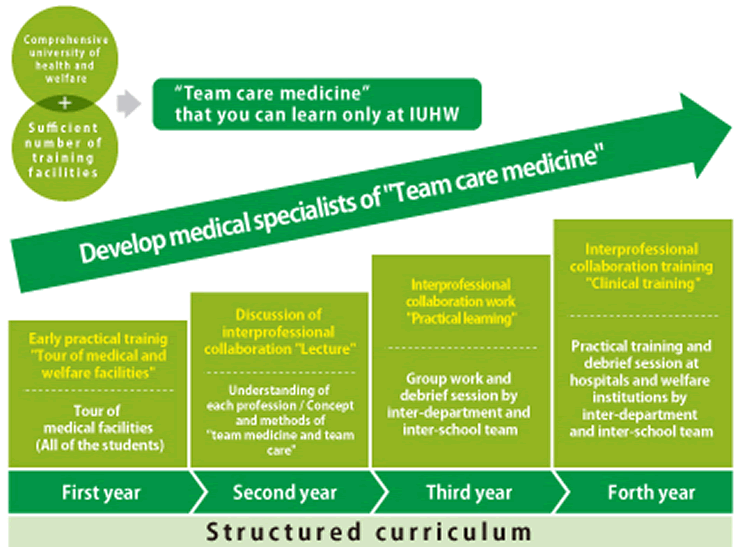 At IUHW, with various types of health and welfare institutions, IUHW provides Inter-Professional Education (IPE) where students learn "Team care medicine", indispensable in the field of health and welfare over the coming years.
The IPE consists of 4 steps. Practical training in the fourth year will be conducted at a wide range of IUHW group affiliated institutions, including 5 university hospitals. IUHW, as a comprehensive university, accepts students who aspire to become various types of medical specialists. It offers a unique curriculum where students can acquire "Team care medicine" through experience at the undergraduate level.
Sufficient number of affiliated hospitals and related facilities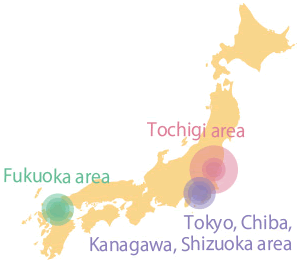 We have an exceptional number of training facilities for students compared to other universities, such as five university affiliated hospitals as well as affiliated hospitals and clinical medicine and research centers around the country. Every student in each department has an opportunity to receive training experiences at these facilities.
・Introduction of five university affiliated hospitals (Japanese only)
Top-class pass rates for the national qualifying exam with a well prepared supporting system.
For those who have pursued the career in medical and welfare fields, the national qualification is an indispensable passport for them. Thus, not "whether I could pass the national qualifying exam", but "I will definitely pass it!" IUHW supports all students and takes measures as much as possible in order to help them pass the national qualifying exam. Regarding the the national qualifying exam's results of graduates of March 2018, IUHW achieved 100% pass rate in the national qualifying exam of Public Health Nurse (School of Nursing at Odawara), Physical Therapist (School of Health Sciences at Ohtawara and Odawara), Speech Language Hearing Therapist (School of Health Sciences at Fukuoka), Certified Orthoptist (School of Health Sciences at Ohtawara) and Certified Care Worker (School of Health and Welfare at Ohtawara). On top of that, our pass rates of all departments and faculties for the national qualifying exam are surpassed much higher than the national average.
Employment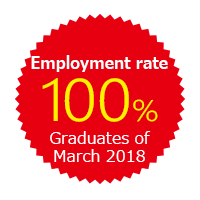 A wide range of job options will be available to students upon graduation, varying from hospitals, health and welfare institutes, medicine related companies, research institutes, etc. We assist students seeking employment opportunities by providing support, such as comprehensive guidance for job search at career support seminars and well-organized employment search engine systems. In academic year 2018, for 1,372 students seeking jobs, there were 95,791 job opportunities offered to our 4 campuses. Approximately 70 job opportunities were offered to a student and the rate of employment reaches almost 100% every year.
Scholarships
Students will be chosen among Special Scholarship Exam and General Exam (primary) applicants with top scores. Tuition may even be cheaper than public universities. Up to 50 % of the students receive scholarships, including university's original scholarship programs as well as other financial support for students striving to work as health and welfare professionals in the future.
・Supporting system (Japanese only)