School of Health Sciences at Narita
Department of Physical Therapy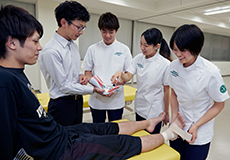 The number of physical therapists who have graduated from IUHW is approximately 2,700, which marks IUHW as the top in all physical therapist training schools in Japan. There is an urgent demand in educating and training physical therapists who can play active roles overseas, and the curriculum at Narita Campus offers various classes with global perspectives in order to advance global competency and clinical capability.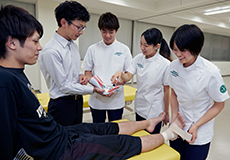 Admission Opening
80
Wide range of opportunities after graduation
Hospitals/clinics, Public offices such as health centers, Rehabilitation centers, Nursing homes/elderly welfare facilities.
Obtainable licenses/qualifications
By fulfilling requirements for graduation, you will also be qualified to take the national PHYSICAL THERAPIST licensure exam.